S&T Connect helps engage you as an active participant in your academic success, and connects you with student resources and your support team. Achieve your goals and overcome challanges by engaging in real-time communication with your support network.

Your Right to know
Flags can only be viewed by you and the persons associated with the Flags (you, your instructor, Advisor etc.). The information stored in S&T Connect is protected under the Family Educational Rights and Privacy Act (FERPA); you can find information regarding FERPA.
Log into S&T Connect or through Canvas.
1. Click your name in the top right corner (this will always take you to your personal folder).
Enter your contact information and how you prefer to be reached
2. Upload your photo.
Select the Upload Photo link
Browse for the photo on your desktop
Click the Upload Now button
3. Complete the General Overview and Biography sections so your support network can learn more about you.
4. Click the Submit button.
Log into S&T Connect or through Canvas.
You will see your student Dashboard. This is where you will see any Flags or Kudos that have been recently raised for you.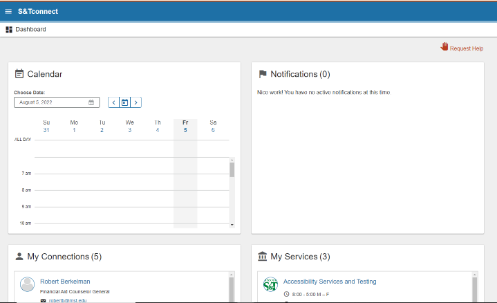 On the left-hand side of the Dashboard, you can click to view My Success Network by clicking on the three bars next to S&T Connect.
My Success Network is where you will find your current instructors, advisors, and other contacts who are assigned to assist you in your success at S&T.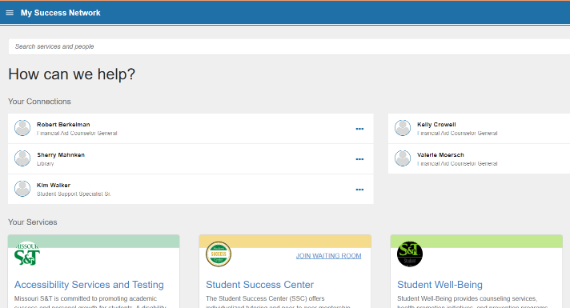 In My Success Network, locate the person you would like to schedule an appointment with (advisor, instructor, and financial aid advisor etc.).
Click on the three dots and select Schedule Appointment.

Select what type of help you need and click continue
Select a date and time block that works with your schedule and click continue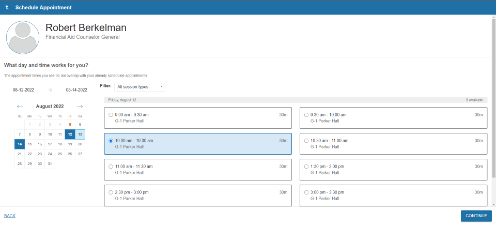 Confirm the date and time of the meeting are correct and provide details about what you need help with. Then click on confirm.
Once you have completed setting your appointment you can return to your dashboard where you can view your appointment.
Click on the Courses icon to view your current courses.

Under MY Success Network, you can locate current services available to you with each support person's contact information under Your Services or Other Services.